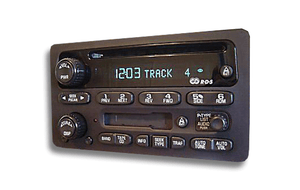 2001 - 2002 Chevrolet Venture Radio Replacement Process & Warranty Activation
Complete your online sales order
We ship your re-manufactured radio
Simple radio install - 

May require dealer programming. 

Activate your Lifetime Warranty -

ship us your old core with in 30 days

. Use the enclosed free return shipping label.
OEM quality, fully re-manufactured instrument clusters and radios. Each unit meets all manufacturers specifications. 
Why buy your Chevrolet Venture radio replacement from ISS Automotive?
Founded in 1949, we have been distributing and remanufacturing for top automotive suppliers for 70 years. The ISS Automotive website was launched in 2020 to provide instrument cluster replacement & repair services to the community. The ISS team has replaced or repaired over 1.5 millions clusters, radios, electronics and more over several decades. Our customer service team works directly with dealerships giving us inside knowledge to the best parts and solutions available. Learn More About Us
Questions:
Do you have any questions: Contact Us
Warranty

Limited Lifetime Warranty if we receive your broken core within 30 days . We provide free return shipping for old core to activate your warranty. 
Limited Lifetime Warranty covers defects in materials and workmanship for as long as you own the vehicle. So if for example, the touchscreen became unresponsive, we would replace or repair it free of charge. It would not cover things like crash, fire, theft, etc. The warranty is verifiable by your VIN or your original invoice should you run into any problems in the future.